Wednesday, 06 January, 2021
COMMUNICATION DEVELOPMENT MISSION!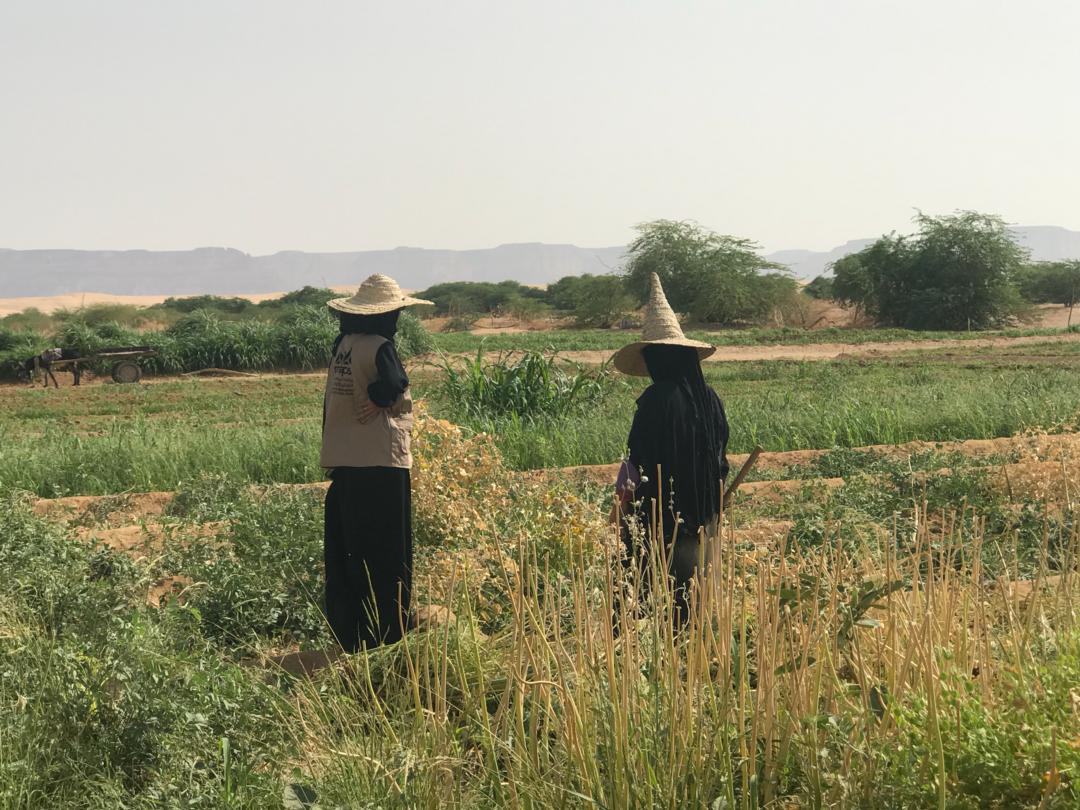 The journey started, April 17th 6AM and we are on the road.
It's so exciting starting a journey of wonders. Now I am on a communication development mission to several places around Yemen, to meet people supported by SMEPS in many sectors. Fish, agriculture, health, honey and other businesses too. Communications and I visited many governorates, first stop from Sana'a was Lahj, not too far from Aden. We certainly passed through many check points, some asked for ID's and some didn't bother, regardless no one asked me for any ID because I am a women, now this is an advantage. We were able to make it through check points, with no obstacles at this point. Lahj was the first stop, we met the farmer Ali Al Kiyal, he was one of the most famous farmers on our social media platforms, he was known by so many. I have previously worked on SMEPS portfolio for 2017, and Ali was among the success stories mentioned. The feeling I had when I had the chance to meet this old man in person, was a blessing. We communications function quite differently from any other organization, we literally go straight to the beneficiary and ask them for advises. We ask them for honest feedback, and what's more important we hear their story and pass it on to as far as we could. We believe the strength of our work lies in their voices, therefore we make their voices heard. Ali Al-Kiyal wasn't expecting us coming, he was so excited to tell us all about his positive results in using the drip irrigation systems. He was taking us from one place of the farm to another, so proudly speaking about his great achievements his own hands made. Ali Al-Kiyal is old in age, but he is such a risk taker. He was willing to try new modern technologies in agriculture, despite the fact that every farmer around his area told him he's crazy. Some even made fun of him, and told him you are going to lose all your money trying this. Ali used to spend 10 hours watering his farm, he used to use flood irrigation and it used to fill up his farm with water, which was not productive. Ali now waters his whole farm in just 15 minutes. Can you imagine? I saw the pipes and results of crops with my own eyes. We left uncle Ali extremely happy, taking video's and pictures of him speaking what is in his mind.
Next stop comes Aden, soon the weather started changing from being cool to hot. The weather changing during the road while traveling on a car has always been amusing to me. Just feeling cold in a minute, hot in the other, weather is something to think about. We rested in Aden and got ready for the big day tomorrow. Training SMEPS staff, and beneficiaries on social media and personal branding. We believe a fisherman should be a communication officer of his own, he should be proud of the fish he caught during his trip. A farmer should be proud of the tomatoes he got, and for sure a honey keeper should brag about his honey he obtained. Supporting them in developing their own personalities, sharing their successful experiences that they worked on and helping someone out there. It works. Next stop comes Mukalla, early in the morning we left Aden heading to Mukalla, it was around dawn. The road to there was one of the best I have ever seen in my life! We were all amused, opening the windows of the car and just enjoying the weather and views. We stopped at a point where we saw clouds moving! Up so high, between the mountains clouds are running through so beautifully. Yemen has beautiful natural views that brings peace to the heart and mind. We arrived to Mukalla, and prepared ourselves to train SMEPS Mukalla staff, beneficiaries and consultants on the social media personal branding training. The weather was extremely hot, but nevertheless everyone attended the training. Both training's in Aden and Mukalla achieved a great success, the trainer did an amazing job, and we as communications started noticing the positive change it made on their personal social media posts. They started posting their work and advice's everywhere. Ahmed Bin Amer for example from Aden, he is a fisherman. He is so active on Facebook that many fishermen outside Aden look up to him! The picture below shows Ahmed saving a dolphin that was stuck on the net! He saved it, and they both took a picture smiling before putting it back to the sea.
Next stop was Sayoun, we went to Tarim and Doan. Both are known for their high spirituality and safety, and of course honey. We visited more than one honey associations, and checked on them. Doan honey is so famous, and it heals many diseases. We spoke to honey keepers as well. They are so passionate about honey, and the process it takes them to get the best out of it to sell it. Honey beekeepers struggled, and still struggle with exporting honey to other countries. It cost them double the price now and sometimes the honey makes it to another country and all honey gets thrown at the airport. A clear agreement among counties should be made to make the process of exporting easier on these bee keepers, it's their main source of income and passion. We finished visiting Doan and Tarim and got back to Mukalla again. This time visiting businesses supported by BRAVE project. BRAVE supports private sector businesses to continue. BRAVE comes in as one of the urgent and rushing interventions that provides technical and financial support to companies in a number of vital sectors, to protect businesses from collapsing during conflicts. In Aden too, we visited clinics, bakeries, and lead firms too. It's good to witness businesses grow and become resilient especially during challenges situations.
Every place I visited in Yemen took a piece of my heart. You know something for a fact? Yemenis have similar soul print. What's a soul print? It's the soul that's not seen by eyes, or appearance or accent. It's a print that doesn't have to do anything with your first name, or last. It's a feeling that's felt in the heart. Whether they are from the south or north, east or west, you can still know them from within a distance. We can be better, let's just take that step!