Wednesday, 16 December, 2020
I AM OLD IN AGE, BUT I AM ADVENTUROUS!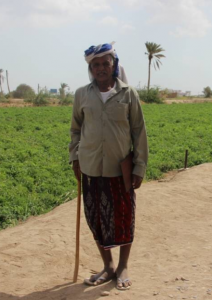 Some people in Yemen are afraid to experience new things, they are usually afraid of taking adventures. They are scared, because the loss in a country burdened with defeats means the end. Ali Al-Kiyal is surly not one of them. Al-Kiyal is one of the oldest farmers in Lahj, he is smart and welling to always try. Al-Kiyal considers his farm, to be his home. He spent many of his years in it, as it has been his main source of income. He was among the trainees who attended the workshop of introducing new irrigation systems to the farmers by SMEPS. Some farmers left the workshop not convinced of trying new modern techniques, and they were not willing to take the risk of trying.
However, Al-Kiyal believed using modern techniques was the perfect solution for an ongoing issue they all suffered from, which is wasting water leading to expensive farming costs. Ali ignored all the negative opinions of the farmers in the workshop convincing him not to even try, because of the fear of experimenting loss… In fact, he only saw the major success he will soon reach. SMEPS supported Al-Kiyal by covering half an acre of for him and provided a modern irrigation system for him. Al-Kiyal bought another half an acre on his own because he believed in the idea. When the other farmers knew he took this step, they thought for a moment that farmer Ali Al-Kiyal had lost his mind and that he became so close to facing great loss!
So quick, the days passed, one day after another. Al-Kiyal didn't need a long time to reach the success he dreamt of. It only took him 18 days to harvest the weight of 14 tons, while it used to take him at least 3 months to harvest only 25 tons! … Al-Kiyal was brave enough to take the first step and tried drip irrigation system, which lead his farm to a major success and the use of diesel and fertilizer decreased greatly. It is widely believed among people that drip irrigation will not be enough to water the plants, and the plant will eventually get dry and die. After farmer Ali's decision and positive results, these wrong assumptions have vanished forever. After his success, many farmers from Abyan and Lahj came to see his success to believe it's true. He believed in the idea and insisted to succeeded. His courage inspired all the other farmers to follow the same path, and they all started to use drip irrigation system. Ali Al-Kiyal won't stop here, he has an ongoing mission of spreading this idea to all farmers, he wants to educate more farmers to use new modern techniques. Thank you Ali.